DreamWorks Classics (formerly known as Classic Media), is an American animation studio and production company owned by DreamWorks Animation SKG, Inc.,an independent animation studio that was spun off from Steven Spielberg's DreamWorks Studios in 2004. It was founded in 2000 as Classic Media by former Marvel Entertainment CEO Eric Ellenbogen and former Broadway Video executive John Engelman.
In 2001, Classic Media won a bankruptcy court auction for the assets of Western Publishing, which included the rights of Turok and other characters from the franchise, and the assumption of all its debt, with Random House receiving all the publishing properties and Classic its entertainment division.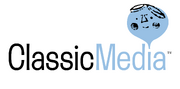 In 2012, DreamWorks Animation SKG announced that it had acquired Classic Media for $155 million. The company became a division of DreamWorks Animation and was renamed DreamWorks Classics.
As of 2016, DreamWorks Classics owns the rights to Turok.
Ad blocker interference detected!
Wikia is a free-to-use site that makes money from advertising. We have a modified experience for viewers using ad blockers

Wikia is not accessible if you've made further modifications. Remove the custom ad blocker rule(s) and the page will load as expected.